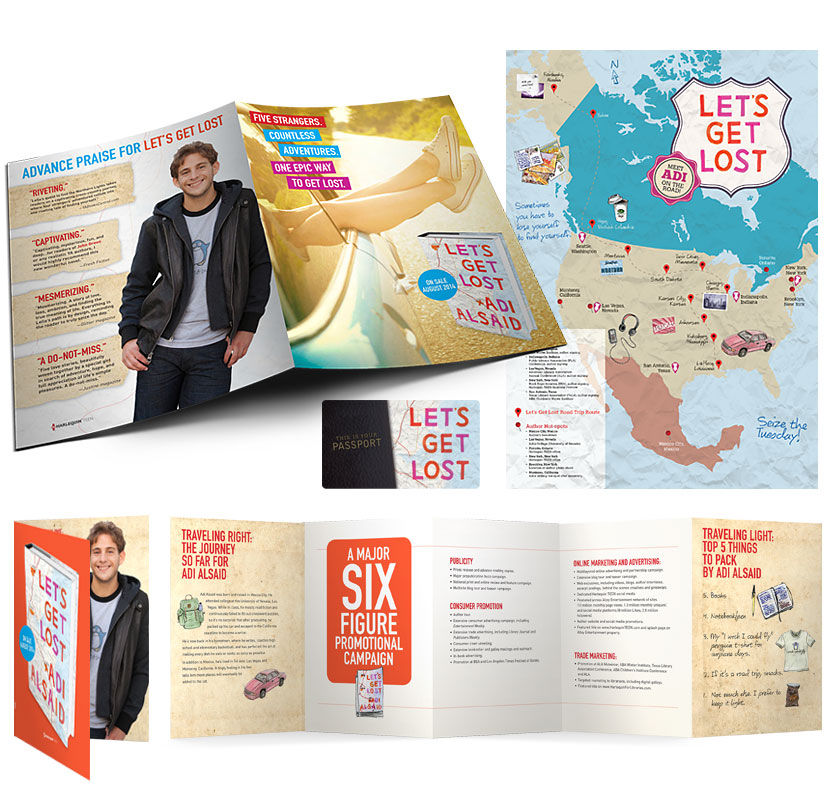 We're excited to be working on the marketing campaign for a title that we expect to make quite the splash when it is released this summer. Let's Get Lost is one of the most anticipated Young Adult debuts of 2014. Author Adi Alsaid's fresh, unique voice, combined with a major marketing push from publishers Harlequin makes this a title to watch.
The book also has strong backing from Alloy Entertainment, creators of several bestselling series including Gossip Girl, Pretty Little Liars and The Sisterhood of the Traveling Pants.
The buzz in the trade is already starting to build and we're delighted to have played a part. We were called in to design a number of marketing pieces, including rich-media trade promotions, brochure, folder, USB key and a map of the route across North America taken by the central character in the book.
Meanwhile, we also designed a media promotional package in the form of a suitcase plastered with stickers from many of the places visited by the main character. Inside, were a galley copy of the book, sunglasses, a folder with the news release, and a USB key with the manuscript, bonus content and video postcard from the author.
The package (see below) certainly had the media abuzz. A sampling of the comments:
"Holy crap @HarlequinTeen. You outdid yourself. Can't wait to get lost!" —theyoungfolks.com via Instagram

---

"I love the suitcases for Let's Get Lost! Very impressive! When I took it around the Alloy offices, jaws dropped." —Editor with Alloy Entertainment

---

"Excited for Adi Alsaid's YA treat #LetsGetLost from @harlequinteen. Fresh Fiction loves it." —Fresh Fiction via Instagram http://instagram.com/p/kklaRUSg74/#
Our favourite comment though was this Facebook posting by the San Francisco Book Review: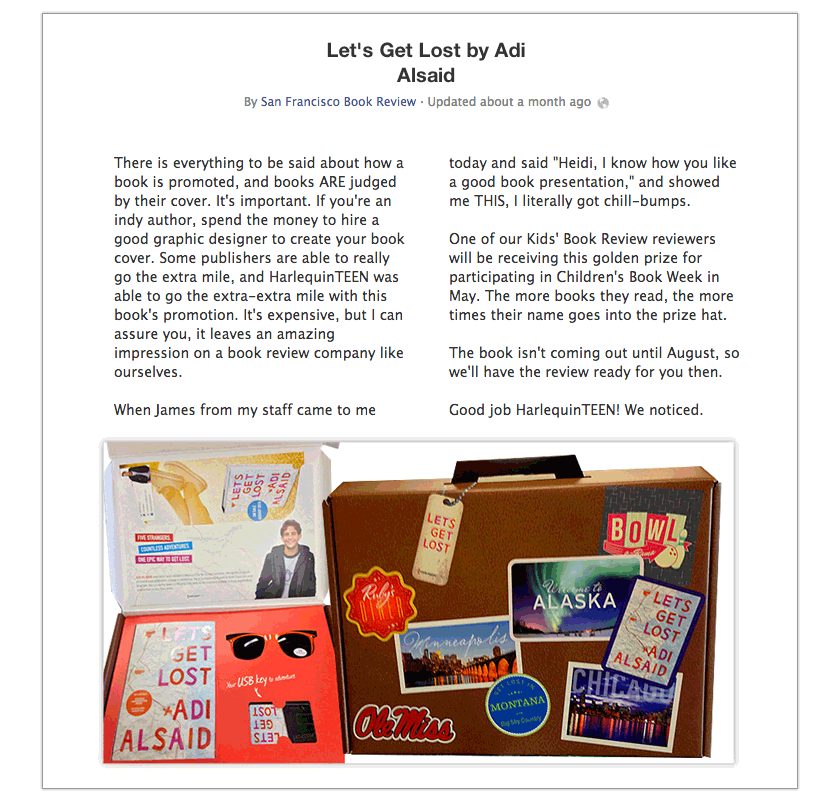 Add a comment